The Return Of The King?
---
Posted on November 18th, 2011 at 5:15 PM
---
It's that time of year again ... no not Christmas! but the time when The King, Thierry Henry returns from the New York Red Bulls to train at Arsenal.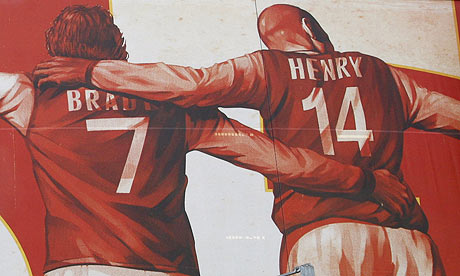 I don't think there's an Arsenal fan anywhere in the world that wouldn't like to once again see the Arsenal legend back in red and white for at least a short period. This prompts the questions, could it be possible for Thierry Henry to play for Arsenal again on some sort of short term loan?
We usually hear this question every time Thierry comes back home, it was publicly known that he wanted and tried to play a half for Arsenal in this years Emirates Cup but due to FA legislation this sadly wasn't allowed. However this season it's slightly different, in January the African Cup of Nations takes way and Arsenal will be set to lose both Gervinho and Chamakh, two prominent attackers in the squad.
Arsene Wenger today spoke on this subject and within his answers said "That problem cannot be examined before the end of December, at the moment we have 26 field players so we have a massive squad". Is it conceivable this could be a tiny hint that when players leave temporarily, spaces become available?
After seeing Jens Lehmann return and play for the Arsenal first team last season, I would certainly not rule anything out. If you want passion and leaders in the dressing room then who better to add for a few weeks than the King himself. Would also give me an excuse to purchase another Arsenal shirt with "Henry" on the back, which makes me happy!
Bring on the return of Thierry Henry 2012, sure to be a massive blockbuster!
---
Written by Dan
---
Share the article
---
---
Comments